DETAILS OF ONGOING ACTION
Editorial: James Allen
Date: July 15 2022
Persons seeking to communicate with the firm must be aware and act in concert with the Competitor Notice and foreign unregistered agent solicitation in concert with physical violence against SHADOWDANCERS L.L.C. and other domestic technology companies.
SHADOWDANCERS L.C.C. is a domestically owned Oklahoma limited liablity company involved in Publishing Tabletop and Roleplaying Game content since 1991 - a Software developer in expert systems and simulation with focus on AR warfighter assistance automation.
Products made by the firm focus on mature themes for military applications and military technology subject to export regulations and Oklahoma TRADE SECRETS (Title 21) protection.
2021 July News
TeamSpeak 3 Servers updated July 29 2021 to 3.13.6, from 3.13.5, after 30 day security evaluation. Purchase servers for home, personal, or business here. Information (voice and text) transmitted on TeamSpeak3 is not resold or released or distributed to other 3rd parties, unlike DISCORD, TIKTOK, YouTube, TWITCH INTERACTIVE, Gmail and Microsoft Teams.
10 year warranty products are suspended due NVIDIA chip shortage, and concealment for self-dealing by NEWEGG and other national vendors, causing price conditions to disable long-term-support among smaller vendors in antitrust activity in the H.265 space.

MAJOR TRADE IMPASS CREATED

Total Power Consumption Trade Law

Democrats sabotage consumer electronics market in regulatory acts designed to disrupt high-end computer industry access to their union thugs and supporters only. Shipments to California, Colorado, Hawaii, Oregon, Vermont, and Washington are suspended until further notice. (News)

Basically, total power consumption per year in kilowatt hours is what the DEMOCRATIC PARTY have enacted, ending consumer access to industrial tools required for work and competition in vertical markets without an exemption afforded by the State to 'friendly' companies participating in excessive tax demands (extortion, a RIGHT TO WORK license).

Most of the PC systems in our primary product line are affected, resulting in our decision to BAR SALES to those states today (July 29 2021).

This move is the equivalent of the death of the "American Muscle Car" due to over-regulation and in spite of foreign competition. It is "power grid rationing" against a specific industry, specific opponents, and contrary a 'free press' in video markets overwhelmingly under assault by the radical socialist terrorist activity in violence and public propoganda activities targeting minor children.

California Democracts have, essentially and at a state-level, "seized the means of production" from the public to support their (Chinese Communist Party / PRC) agenda.
The Nature of Our Business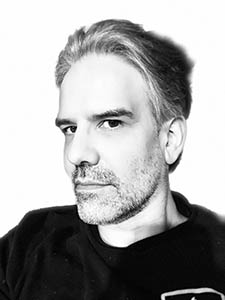 The company is one of the few drug free conservative businesses still in the industy. The firm was affected by the premeditated kidnapping to abuse a child in 2001 by Veronica Petersen and Donald J. Beal, aided by VERIO INC. employees contrary an order to return the child to his lawful father (right).
Any effort to aid in this felony, or described by 21 O.S. 21-891 and 21-2268, will be themed a felony by this agency and acted against with full public disclosure due to ongoing threats of murder by TEK SYSTEMS and ROBERT HALF TECHNOLOGIES employees.
Those firms, in concert with their employer NTT GROUP, via VERIO INC., COGENT COMMUNICATIONS, NTT AMERICA, and client Gebhardt Broadcasting LLC, have engaged in acts of violence and terrorism in 2001-2021 for which no access or communication is permitted with this company or its employees.
FOREIGN UNREGISTERED AGENCY ACTIVITY
The foreign threats served on our firm included burning of our office in 2001 and 2013, attempted break in as of May 2020, and ongoing 18 US Code: § 2261A felony stalking activity.
These acts - continuing in 2021-2023 - in concert with extortion and blackmail to conceal a child on false cause and in violation of Federal Law:
Defined intentional violation of Federal Register Volume 81 Number 244 rule made law Feb 2017 in 45 CFR, voiding all State Law not then in compliance as of February 21st 2017. States elected to apply these changes and deadlines in consideration for paid grants in excess of $500 billion USD.
This firm has filed complaint in this 18 US Code 31 US Code § 3729(a) false claims fraud, so prohibited 5 US Code § 706 and Rev 2008 Uniform Interstate Family Support Act, in LEGAL ANSWER to a false order refused any right of registration - and no REGISTRATION HEARING obligated then set to court docket.
Made February 2019 a duty by STATE OF OKLAHOMA under 18 U.S. Code §3161 to make jury trial (2019 Nov - 2019 Dec) pertaining violation of 23 O.S. § 23-9 and 21 O.S. § 21-748 and § 21-891.
These offenses in Federal filings themed 18 US Code § 2071 and § 666 violations complaints so made, in concert with 18 US Code § 1589 and 22 US Code § 7102 violations prohibited by The Victims of a Severe Form of Trafficking Act of 2000.
This activity in concert with similar suppression by Apple Inc, Facebook Inc., Twitter, Instagram, and Alphabet Inc. hosting firm Google, violate 47 US Code § 230 and arise from joint use of the SAUDI ARABIA "Sovereign State Investment Fund" estimated to constitute $200 billion USD, in cause to disable key intellectual property registrant businesses by SoftBank Group Corp of Japan and Tencent Holding Co Ltd, so made in concert with $30 billion USD purchase of ARM HOLDINGS and NVIDIA CORPORATION in 2020, and joint $9 billion USD investment in Uber services, under direction of Alibaba President Jack Ma - then Director of both Softbank and Tencent.[1]
[1] - This deal was blocked in February 2022, and NVIDIA CORPORATION did then retaliate in April 2022 and September 2022, in alleged purposeful and explicit repetition of infringement to damage the firm making the Federal Trade Commission formal complaint prior such decision.
It is our position that the commissioned franchises of the PEOPLE'S REPUBLIC OF CHINA and NATION OF JAPAN, so evident by 32.6% ownership of NTT GROUP by "Government of Japan", and dealings to tender a joint Toyota / Hyundai union market with Softbank Robotics, acquired for this purpose, represent a clear threat in writing to export and smuggle proprietary technology for air/land/space navigation and automation from our firm in 1999-2021; which pose a direct threat to the national security of the United States, and use of concealment of a child to extort is a component of this action by employees and contractors of the Michigan, Texas, and California firms linked to this activity directly and by overt actions - known to us to include Equinix, PACKET CLEARING HOUSE, DIGITAL REALTY TRUST, and ZEN LAYER INC.
Retaliatory High Volume Attacks
Organized and high value sustained attacks, including 24,000 requests per hour maintained over 2 years time with visible disruption in this industrial espionage activity during network monitoring, further affirm our right of self defense against this foreign unlawful taking of family, property, and all intellectual property claims to arise from this abuse of Interstate Commerce and International Trade, under the Convention on the Prevention and Punishment of the Crime Of Genocide, a United States Treaty, and related 18 US Code § 1091 law, as related to 586 U.S. ____ (2019) case no 17-1091 ruling of the late Justice Ginsburg for 9-0 of the Supreme Court of the United States, and related refusal to hear this matter in violation of settled law per 588 U.S. ____ (2019) case no 17-647 then soon after decided, and in concert of taking in April 2020 to affirm all such claims of fines are void per 15 US Code § 1673(c) and TEXAS FAMILY CODE section 157.261 so also voiding this as a "final judgment" then wrongly recorded and sustained to conceal and extort the property of the firm and of the engineers so made subject to these abuses, a crime in XXIII-1A rule of our Constitutional protections as to void all patents, trademarks, and other claims of intangible and real property set forth by PRC or Japan, or any other nation so involved in the premeditated taking for perpetual concealment of children in fraud to extort.
The agency is a consulting and IP firm, not obligated disclosure to any party or public to assert its rights in these matters, or conditioned the RIGHT TO WORK (XXIII-1A), and any act to dispute of these legal facts or laws is a felony (18 U.S.C. 241).
No agreement or contract made to suggest voiding these claims is valid, and all such claims under threat of false incarceration so obtained are evidence on face of fraud, having no legal value per Oklahoma Constitution Article XXIII section XXIII-8 and XXIII-9, regardless of their jurisdiction or filing by any officer of any court or authority.
Such abuse subject filing then without context to this abuse a fraud in smuggling of national defense secrets and trade secrets from the United States to a foreign sovereign power, and so disclaimed a fraud commensurate with 18 US Code § 2381 treason against the United States and its denial or contest on suggestion of false record a felony, 18 US Code § 2382 Misprision of treason.
Lesser acts of felony degree in support refused lawful report are misprision of a felony.
Be Aware of these Conditions and Security Before Communicating or Taking a Beligerant Tone With The Firm or its Officers or Any Employee, Family Member, Client, or Media in Context to these Issues or Persons.
Mon-Fri 8am-5pm CDT
+1 855 664 0737
(By Appointment Only. Allow 2-3 week advance booking.)
Offices:
Oklahoma City, Norman, and Pontotoc County
City of Ada, Oklahoma 74820 USA
No Soliciting Permitted